The world's top football players received tsunami-like adulation as they rode the roaring streets draped in Argentine motifs and Argentina Champion titles. Their open-top victory double-decker was made by Higer!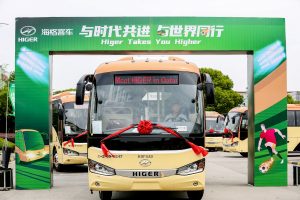 The iconic vehicle was one of over 6000 Higer buses serving the FIFA World Cup 2022 in Qatar. This was one of the largest orders in the Higer Bus Company's history. The contract came from the Mowasalat Qatar Public Transport Company, main transport operator to the 2022 World Cup.
Higer had the highest percent of bus market share in Qatar. Alongside all of the brand's buses providing sterling service at the event, more than 200 12-metre Higer luxury coaches ran shuttle services between Saudi Arabia and Qatar.
Reliable statistics show that from the event's start to the champions' victory tour, Higer buses transported some 200,000 passengers on an average day. This adds up to over 6 million passengers for the entire event. Higer Bus Overseas Customer Service Department Deputy Director Cai Tiefeng said the event service guarantee work set a new record for the manufacturer in terms of vehicle numbers, service team size, and manpower and material resource input, all of this a long distance from Higer's native China.
The Higer Bus Company Ltd has delivered over 30,000 electric buses to clients worldwide. Public transport users in the UK, Korea, China, Israel, Italy, Bulgaria, Ireland and many more countries enjoy riding Higer's excellent buses.