13 July 2022: Electric bus and charger pioneer Chariot Motors, supplier of Ultracapacitor (UC) e-buses to Sofia operator Stolichen Elektrotransport, won a tender and signed a contract for delivery of four more UC e-buses. Announced in May, the contest was for fast-charging, low-floor buses plus three electric chargers.
Chariot 12-metre-long UC e-buses are produced by Higer Bus Company's world leading facilities and powered by industry-leading innovative Aowei ultracapacitors.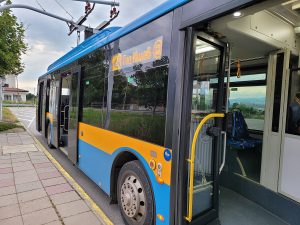 Ultracapacitor e-buses need no overnight charging. The last fast charge from the previous day is sufficient in order to run the e-bus next morning without overnight charging. Frequent charge/discharge cycles do not affect UC longevity. Ultracapacitors have proven robust, environmentally friendly, and safer than batteries on these indicators. They are nonflammable and retain performance in temperatures ranging from -40 to 60°C. They have no harmful or toxic components, presenting no pollution hazard and no hidden end-of-life disposal costs.
A fast five minute charge allows over 35km of range and hence round-the-clock use. This is the major difference from battery e-buses which have longer range but most often need overnight recharging.
The order for four new low-floor, fast-charging e-buses and three new charging stations is part of a project named Implementing actions to Improve Air Quality in the Metropolitan Municipality through Purchasing Commissioning Electric Road Transport Buses and Trolleybuses, financed by Operational Programme Environment 2014-2020 with the assistance of the European Union Cohesion Fund.
Public transport operator Stolichen Elektrotransport already operates 45 Chariot/Higer 12m UC electric buses. They have 40kWh UCs and run-on routes 6, 60, 11, 73, 74, 84, 123, and 184 of 11km average unduplicated route length. Even before the four new electric buses, the Metropolitan Municipality had cut air pollution by 1 232 000kg of CO2 and 700 000g of NOx in mid-2022.
Find more about our UC electric bus projects here.