A key study of ultracapacitor technology used in Chariot fast charging city e-buses, has appeared on the smartcityvpraxi.cz website – page 27. The Czech Ministry of Transport website has also picked up the guide.
Read more in English on the Chariot UC e-bus study below:
Chariot UC fast charging e-buses and their features
The Chariot UC city e-buses feature Aowei's latest and most advanced technology. The buses are assembled in the world leading facilities of Higer Bus Company.
Chariot Motors e-buses are 12-metre (with 40kWh UC) and 18-metre, articulated (with 108kWh UC) low-floor city buses. The electric vehicles comply with European homologation certifications, a strict market requirement in the EU, including the ECE R100 energy storage device standard. The e-buses are comfortable, air-conditioned, low-floored, equipped with push-chair ramps and a stop button for getting off, as well as acoustic signals for blind people. Amenities include double USB outlets next to each seat allowing passengers to charge mobile devices.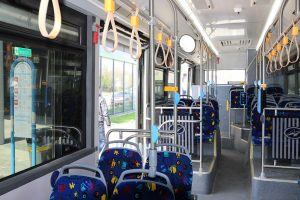 The modern, sustainable electric buses have charge time between 5 min (for 40kWh UC) and 10 min (for 108kWh UC), after which the e-buses cover between 20 and 40km.
Ultracapacitor vehicles need no overnight charging. Their final fast charge from the previous day is sufficient to power the e-bus the following morning without overnight charge. Frequent charge/discharge cycles do not affect UC longevity.
E-buses can be delivered with two pole charging, or with four pole fast charge equipment, according to European standards (roof up and top down), compatible with the charging infrastructure for other electric buses using the same standards.
UCs have proved themselves robust, environmentally friendly, and safer than batteries on these indicators. They present no fire risk and retain performance in temperature extremes between -40 and 60°C. They have no harmful or toxic components, presenting no pollution hazard and harbor no hidden end-of-life disposal costs.
Chariot e-buses come with full ten-year ultracapacitor pack warranties.
One of the key features of Chariot fast charging e-buses is the power saving: the net energy consumption (traction only; no air conditioning and sundry consumers) is just 1.1 kWh/km, which is among the lowest operational e-bus consumptions.
Sofia's urban transport fleet: from a single test vehicle to 45 Chariot UC e-buses
The EU's and Bulgaria's first sustainable UC e-bus was presented by the Chariot Motors Company in 2014. The 18-month pilot project it ran was successful and encountered superb public reaction. Testing the bus, the reputable German laboratory Belicon GmbH defined it as one of the lowest energy consumptions and most efficient vehicles.
Based on the project's success, Bulgaria's metropolis of Sofia, (one of the most polluted European cities) chose UC e-buses as an innovative mode suitable for its urban transport fleet. Sofia public transport operator Stolichen Elektrotransport now has 45 Cariot – Higer 12m UC electric buses into operation: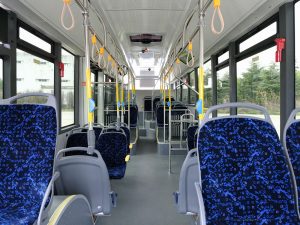 fifteen in 2020 and 30 in 2021. The vehicles have 40kWh UCs and run on routes 6, 60, 11, 73, 74, 84, 123, and 184, with 11km average unduplicated length. By the close of 2021 they helped cut Sofia air pollution by 870,320kg of CO2 and 494.5kg of NOx.
The outgoing diesel buses are one of the biggest polluters in Sofia's inner city. Chariot UC e-buses are most suitable for the city, with its well-established and well-developed trolleybus network. Smart charging stations using trolleybus power supply were placed at route termini. The e-buses recharge during terminus turnarounds and do not need any en route charging. Electric buses powered by Aowei's ultracapacitor system can operate without the catenaries needed for trolleys and trams, however. This greatly improves the urban environment by eliminating the ugly overhanging wires associated with the other electric public transport vehicles.
Chariot e-buses in other countries:
37 Chariot UC e-buses operate in Tel Aviv's urban transport fleet. 15 e-buses will serve Belgrade by the end of 2022. Three electric uses operate in the Bulgarian city of Gabrovo. Chariot has proven its technology in pilot projects at Graz in Austria, La Spezia, Turin, and Rome in Italy, Skopje in North Macedonia, Aalborg in Denmark and Smartroad wireless charging project in Gotland, Sweden.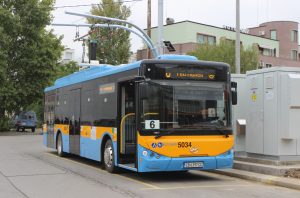 Additional information about the decision-making criteria
The reasons why the decision makers are going for the fast-charging technologies and particularly for supercap e-buses amongst the others are:
the high reliability of the ultra-cap energy storage, the full SoC that could be use theoretically from 0% to 100%;
the Long operational lifetime of the UC cell that is 50,000 – 100,000 cycles of operational life;
the UC cells are characterized with low temperature tolerance where the electric bus can be operated under extreme cold environment;
strong advantage is that there is no limitation for the daily mileage as the UC e-bus is charged at the end bus stop during the bus drivers' break;
the UC cells have better heat management thus having a lower chance of overcharge and over discharge;
the UC e-buses are safe since the UC cells do not burn/explode even with heavy using.
the UC cells are clean containing no harmful or toxic substances;
another important advantage is there is no need to balance the UC e-buses overnight.